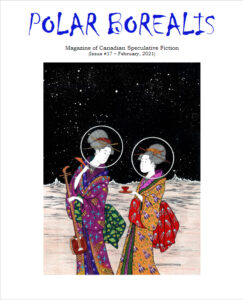 The latest issue of Polar Borealis, edited by SF Canada member R. Graeme Cameron, has just been published.
Discover poetry from SF Canada members Jean-Louis Trudel, Lisa Timpf, and Melanie Marttila along with fiction from Paula Johanson.
Both Polar Borealis and the new Polar Starlight are open to poetry and fiction submissions until February 28, 2021. The latter is a new Canadian poetry magazine edited by Rhea E. Rose.
Download Issue 17 for free. Visit polarborealis.ca to view back issues and find more information about this paying market.